Get Involved
---
UCF Cares Ambassadors
Since 2012, a dedicated group of student volunteers has been working together with various campus partners to help build a culture of care on campus. These students raise awareness about UCF Cares and educate their fellow Knights on resources, events, and services. The UCF Cares Ambassadors understand what it means to be a college student and what they need from UCF Cares to be successful. Our goal is to make student and faculty/staff aware of students that need guidance in their academic journey and to connect them to the
appropriate resources around campus.
Signature Programs and Outreach

#UCFSQUADCARE
Join UCF Cares in our campaign in wearing your #UCFSQUADCARE band! Your well-being is not just self-care. UCF Cares can show you how to build your squad and support.

Recess
Take some time to unwind with UCF Cares and Counseling and Psychological Services. Play a game, Make a craft, and Meet a friend!

UCF Cares Tabling
Ambassadors are out weekly in front of the Student Union at various campus events, promoting involvement with UCF Cares.

From Coloring Comes Caring
Coloring can be a process for healing, relaxation or coping. Come color with ambassadors at various programs and events through the year.

Safe Knight Week
Safe Knight Week is a series of interactive events to raise awareness about safety and well-being.

UCF Cares Day
Part of Safe Knight Week, this day is dedicated to all things UCF Cares. Students participate in a campus scavenger hunt to learn about resources and support available.

Prize Ride
If you see our Prize Ride driving around campus, hop in! The Prize Ride will drive you.

Movie Night at the Reflecting Pond
Films like Inside Out and Zootopia has been hosted in partnership with SGA to promote mental health and diversity.

The Bounce Back campaign offers students tips and resources for managing mild to moderate depression. These tools have been proven to lessen the symptoms of depression and are easy to adopt and self-manage, thereby providing a resource that students can use even if they are not comfortable seeking professional help.
Recruitment
Our recruitment cycle for Fall 2019-Spring 2020 has concluded. For more details or information, please email ucfcares@ucf.edu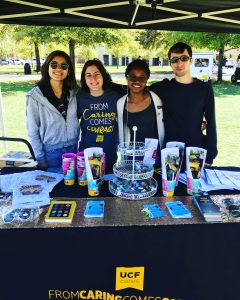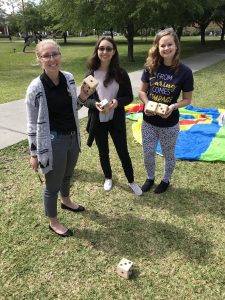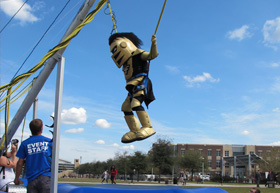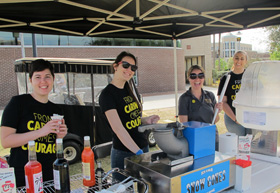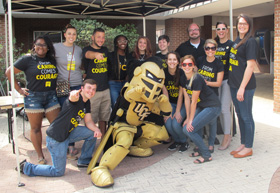 Testimonials
"UCF Cares provides more then just smiles. Being able to hand out promotional materials has enabled us to not only brighten up a students day, but equip them with beneficial information that can assist with many unanswered questions involving student resources. Having an adequate amount of materials will ensure that as ambassadors, we are providing the student body with the information that they need."
— Vanessa Palmer, Former UCF Cares Ambassador President
---
"With all the allocated resources that we've used, it has made a long lasting impact on the UCF population because I've been able to spread the word of all the great resources that no one has heard about or I've given them first hand experience of using the offices on campus, so they can feel better about using them."
— Jacob Alkana, Former UCF Cares Ambassador